Lester's Farm Chalet strongly believes in the importance of education for our young.
We strive to make learning fun and hands-on so that what they learn on the farm will stay with them. We offer a unique farm experience especially tailored to the educational needs of school and youth groups. Children of all ages can enjoy an outdoor learning environment filled with new secrets and discoveries. From large classes to home schooled groups to youth organizations, the farm tour experience at Lester's Farm Chalet is sure to not disappoint.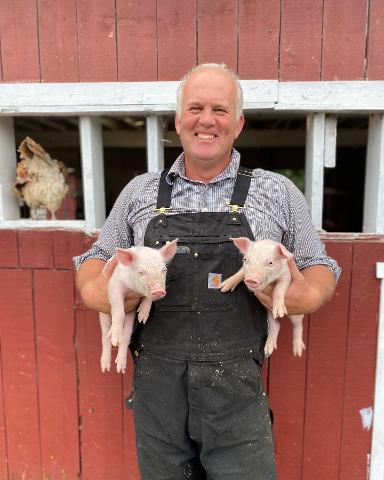 All tours feature a wagon ride around the farm and a petting barn tour. Plus a bag of feed each.
When in season, Farm Tours are $6 per person (Children only. Teachers, Assistants and Leaders are FREE!).
Ice cream: $2 per person. (Please discuss adding ice cream prior to the visit is preferred)
Each tour based on a minimum of 25 participants. (We suggest groups pair up to meet the minimum)
Approx. 1- 2 hours
All available dates and times are online. Please book your slot and then call 368-2458 or Email lestersfarmchalet@gmail to further discuss.
Final numbers are due prior to the date booked to ensure extra staffing can be arranged if necessary. Please contact the administrator on how you wish to pay for the visit.
These guidelines have been set up to ensure that you arrive at the farm prepared and knowing what to expect. Please Read,
Please be on time, and see the Tour Guide when you arrive. Wait to unload your bus until after you have seen the Tour Guide. If in multiple vehicles please gather together by the gates. One designated person will meet with Tour Guide. Payment will be paid prior to entering farm. Wear appropriate clothing, including comfortable, flat-soled shoes. You may be walking through our fields/animal areas. Please try to have one adult per 10 children (for those 8 and under) to help supervise. If your group is to be more than 15 MINUTES late, please call to confirm your arrival at (709) 368-2458.
All of our farm animals are on a specific restricted diet. Please do not bring food from your home to feed them. Appropriate animal feed will be provided to each child who wish to feed the animals.

Lester's Farm Chalet appreciates the opportunity to present our operation to you. Please remember that farming is our livelihood, therefore, please respect our fields and animals, and stay within the areas designated by your tour guide.