Reservations are required in advance, please see below.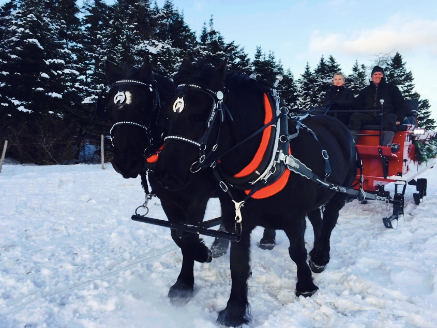 Visit the Farm for winter fun, food and memories!
Enjoy one of the best winter activities St.John's has to offer. Mike and Molly are our brother-sister pair of Percherons. Expertly driven by Farmer Jim, Mike and Molly are sure to impress. Enjoy the peace and tranquility of our farm surroundings.Warm up with some delicious hot cocoa and freshly baked cookie from our chalet.
Please allow for a minimum of 1 hour for the sleigh ride and activities (30 mins for sleigh ride, 30 mins for barn and treats)
Note: Snow or no snow the sleigh ride will still go ahead. Our sleigh has skis and wheels!
*You will be required to use Paypal to book, you do not need an account just checkout as a guest user and pay with credit card*